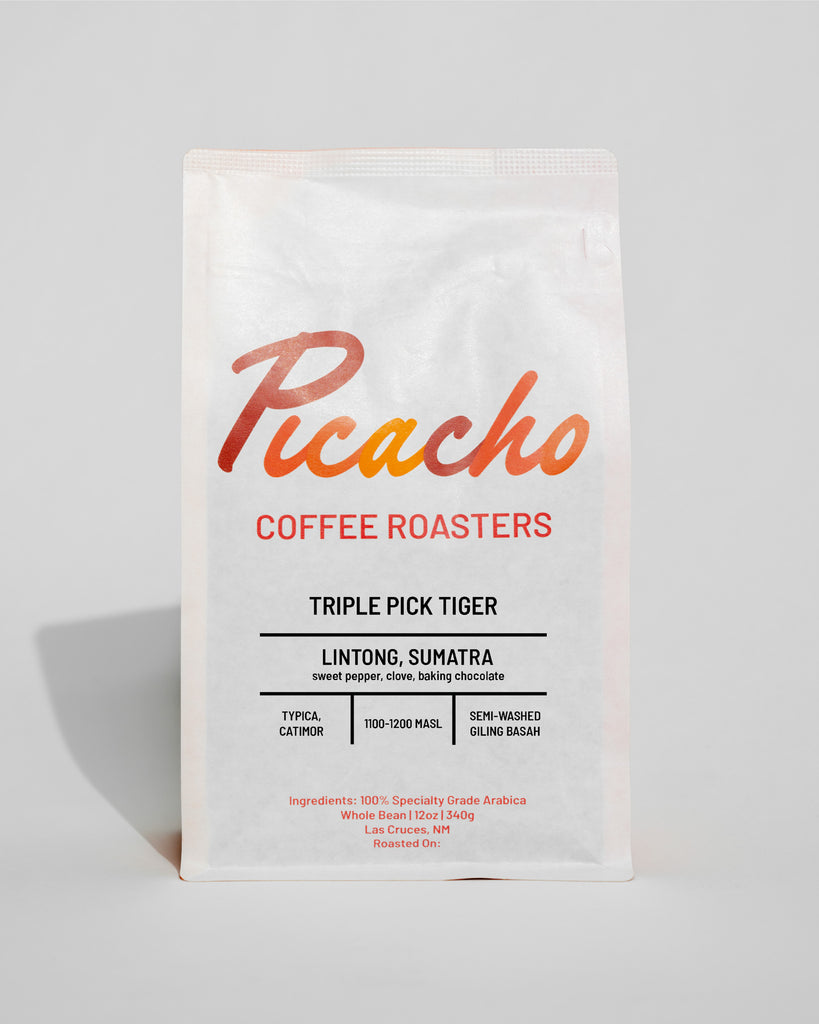 Sumatra 
Lintong, Tiger (Triple Picked)
Single Origin Coffee
Notes: Sweet Pepper, Clove, Baking Chocolate

Roast: Dark (Full City +)
Varietal: Indonesian Typica Hybrids (Ateng, Bergendal, TimTim, Djember)
Elevation: 1500 - 1800m
Process: Giling Basah (Semi Washed Wet-Hulled)
Farmer: Small Farm Holders of Saran Padang Village
For lovers of a classic, full-bodied, big coffee experience this is it and then some! Our Sumatra, Lintong Nihota, our first offering of a Sumatran coffee cups sweet with notes of tropical fruit, malt syrup, cedar, tobacco and bakers cocoa. This is a mixed lot of Ateng, Bergendal, and TimTim varietals cooperatively grown at elevations ranging from 1500 - 1800m (or 4500 - 5400ft) in the mountains of the high-plateaued, northern Sumatran region of Lintong Nihota.
Lintong Nihota lies south west of Lake Toba which is both the largest lake in Indonesia as well as the World's largest volcanic lake. Its surface has an elevation of nearly 3000ft, is over 1600ft deep and covers an area of approximately 440 sq miles! The region's volcanic soil is naturally rich in the nutrients and minerals that arabica coffee plants thrive on. The quality composition of the soil is a direct contributor to an exceptional crop, and the added depth and complexity within the cup. During harvest, the farms employ a traditional form of processing called Giling Basah or wet hulling, which involves drying the hulled coffee beans in iron and mineral-rich beds of locally procured jungle clay. The process yields the classic, earthy, heavily-bodied, experience of an Indonesian island coffee.
The procurement and sale of green, Sumatran coffee is handled by local buyers who work directly with the small farms to build and maintain close relationships with regional growers. The establishment of these practices has helped create a flourishing marketplace for the small growers of Lintong and provides them with consistently high wages for quality lots of specialty coffee.
Brewing: We recommend brewing in a Clever Dripper or a French Press versus an auto-drip machine. Our Sumatra also excels in a pour-over or Chemex preparation. Refer to our brewing section for complete, step-by-step guides on the varied methods of fine coffee and espresso brewing.