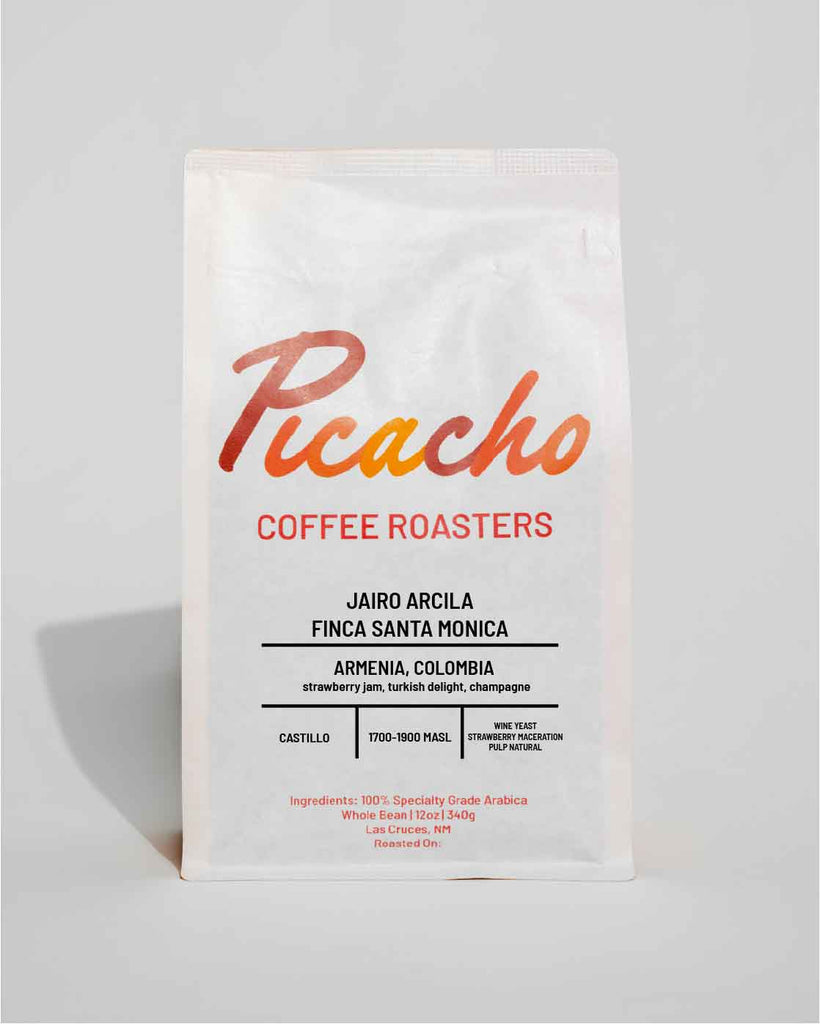 Honey Processed, Wine Yeast and Strawberry Co-Fermentation  

Farm: Santa Monica
Armenia, Quindio 

Colombia 
Single Estate Micro Lot 
Notes:

Strawberry Jam, 

Champagne & Turkish Delight, Lime, Molasses
Roast: Light 
(City+)
Varietal: 100% Castillo
Elevation: 1450m - 1500m  AMSL 
Process: Wine Yeast and Strawberry Maceration Co-Fermentation Honey (Pulp Natural) 
Farmer: Jairo Arcila
This coffee was grown by Jairo Arcila at the farm Santa Mónica. You may recognise the name as we've secured a number of his lots over the years. Most recently was the Sudan Rume which was an absolute coffee experience. This new lot from Jairo was exposed to a dry anaerobic fermentation period of 72 hours with the pulp on. During this fermentation stage, strawberry and wine yeast were added. The cherries were then pulped and placed to dry on raised beds with ripe strawberries placed amongst the coffee until the ideal moisture content was achieved. This microlot is also 100% Castillo variety. This variety was developed by Federación Nacional de Cafeteros to find an alternate variety to the widely used Caturra. Castillo proves to be more productive and resists coffee leaf rust. The results are an outstanding cup with perfumed strawberry notes. Molasses and nougat balance the fruit forward sweetness while notes of cacao and roses linger in the aftertaste. 
Brew Info:
Best Consumed: 5-20 days post-roast date
This coffee is great for filter brew methods. Our favorites are Hario Dripper.
For filter, we recommend 7-8g of ground coffee for every 100ml  (1:17 or 1:18) of water at approx 198f. 
Espresso: 18g Dose, 23-25 Second Extraction, 40-42g yeild