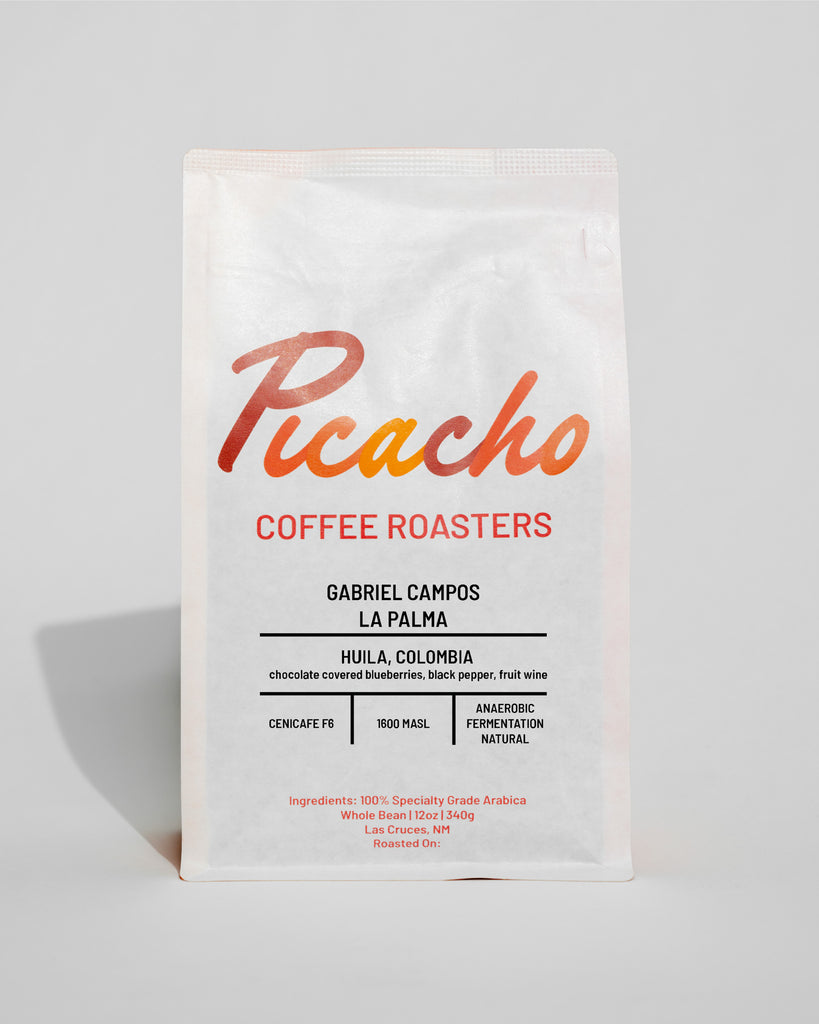 La Plata, Huila, Colombia
La Palma: Anaerobic Fermentation
Single Estate Micro Lot 
Notes:Black Berry, Chocolate Covered Blueberry, Red wine, Black Pepper
Roast: Light (City+)
Varietal: Cenicafe F6
Elevation: 1600m masl
Process: Anaeorobic Fermentation/Dry Processed
Farmer: Gabriel Campos
These bags from DelAgua may look familiar. Thats because DelAgua is who brought us last years incredible Monte Verde lot grown by Javier Carrascal Reyes.  DelAgua is responsible for producing green coffee at La Sierra Nevada de Santa Marta, a magical region with a richly diverse microclimate that is fiercely protected by the folks at DelAgua and the farmers with whom they collaborate. The farmer we got to trade with this time is Gabriel Campos. We are thrilled to share this beautiful natural lot from his farm with you while it lasts.
This lot underwent the extended process with 60 hours of anaerobic fermentation in sealed tanks with added CO2 at an altitude of 1,600 meters above sea level and a temperature not higher than 30 degrees celsius. The coffee then went through a double drying stage. First, on a solar patio for three days, and then in mechanical dryers for an additional six days then left to stabilize in warehouse for another 45 days until they reached optimum moisture content.
The resulting cup of coffee is an incredibly fruit forward experience. With notes of black berries and chocolate covered blueberries. You know its an extended ferment as well with the classic black pepper, red wine and fruit liqueur funkiness. If you are looking for something on the wild side this is the one!
Enjoy!
Chemex
Dose:  32g
Grind: Medium fine
Water: 500ml at 198 degrees Fahrenheit 
Bloom: 50ml of water saturating the coffee. 
2nd Pour: Pour in tight circles until your at 300ml 
Final Pours: Add 20-40ml of water each pour until reaching 500ml. Allow coffee to drain almost fully between pours. 
Final Brew Time: 4 minutes